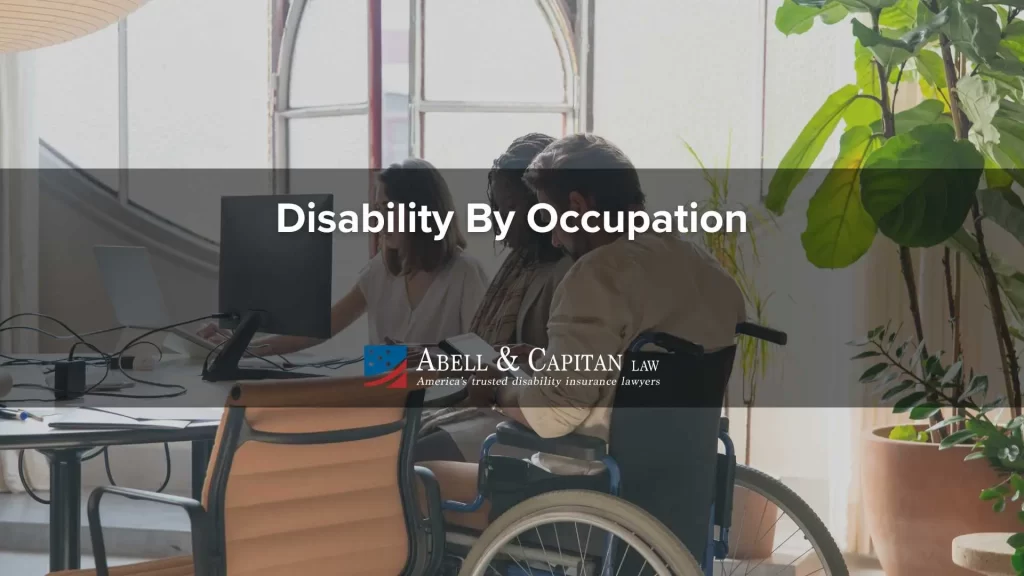 A disability hinders you from completely living your life, affecting your ability to work and make an income. Because of this, you rely heavily on your disability benefits. The last thing you want is for your insurance company to deny you the coverage you need and deserve.
When you have a disabling event that prevents you from performing your job duties, it's important you understand the coverage you are entitled to from your insurance company. Many people are unaware of the benefits they are entitled to, and insurance companies often take advantage of this to limit or outright deny your claim.
A long-term disability lawyer will help you get the benefits you need and deserve. They will help you understand your insurance policy and work with you to gather all the necessary documentation and evidence necessary to support your claim. In addition, they will negotiate with the insurance company on your behalf to get you the best possible settlements.
The long-term disability lawyers at Abell and Capitan Law have extensive experience fighting for the rights of those with occupational disabilities. We will make sure that you receive the full amount of coverage that you are entitled to under your policy.
Determining Eligibility Based on Occupation
Long-term disability (LTD) insurance policies have varying definitions of what an occupational disability is. Typically, an occupational disability is defined as the inability to perform the essential duties of your own occupation due to a physical or mental impairment.
To receive LTD benefits, you must initially prove that you are not capable of performing the material duties of your own occupation. The insurance company will look to compare your functional restrictions & limitations against your job description (usually reclassified as it is normally performed in the national economy) and current ability to work.
The amount and duration of coverage you are entitled to receive under your LTD Policy can also be affected by your occupation. For example. your policy may have a specific duration of "own occupation" coverage for certain employees, and a different duration for others. Certain employees, such as higher-level executives, for example, may have better coverage terms, such as higher benefit percentages or longer "own occupation" coverage.
Most policies eventually change to "any occupation" coverage, which means the insurance company may only pay continued benefits if they determine that you are incapable of working not just in your own occupation, but in any reasonable occupation. The definition of "any occupation" can vary significantly between policies and will usually take into account your transferable skills and (often) include a wage requirement as well.
Determining eligibility is a crucial part of the LTD benefits claim process, as most cases are denied based on the insurance company's definition of disability.
Misclassification of your occupation also happens too often as insurance companies will try to find ways not to follow through on their obligations under the policy.
That is why you must have an experienced long-term disability lawyer on your side to help you navigate the process and get the best possible outcome for your claim.
Benefits That May Be Affected by Occupation
LTD benefits are provided by your employer or an insurance policy you have purchased. LTD benefits can replace a portion of your income if you can no longer perform your job's essential duties due to a physical or mental impairment.
Different LTD policies will cover different types of benefits. However, some common benefits may be affected by your occupation:
If you cannot work due to a disability, you must understand how your specific occupation may affect your entitlement to benefits. An expert long-term disability lawyer can help you get all the benefits you are entitled to under your policy.
Disabilities Based on Occupations
There are many kinds of disabilities, and an insurance company may view the same condition as clearly disabling, or not disabling, depending on what type of occupation you have. Regardless, if you believe that you cannot work due to a sustained disability, you may be entitled to long-term disability (LTD) benefits. The experienced LTD lawyers and Abell & Capitan Law can help you navigate these issues.
The disability lawyers at Abell and Capitan Law have experience handling all LTD cases, based on a variety of occupations. This is by no means an exhaustive list, but we have successfully fought for our clients who have occupations such as:
Professionals
Managers & Supervisors
Medical Professional
Sales & Service Workers
Clerical Support & Office Worker
Skilled Trade Workers & Technicians
Manual Labor Workers
Don't wait to get help. The sooner you contact a long-term disability lawyer, the better. We can help you understand your rights and get the benefits you deserve.
Contact an Occupational Disability Lawyer
When you're dealing with a disability, the last thing you want to worry about is whether or not your insurance company will give you the runaround. You need an experienced and knowledgeable long-term disability lawyer on your side who can guide you through the appeals process and help you get the benefits you're entitled to.
At Abell and Capitan Law, our long-term disability attorneys are not afraid to take on the insurance companies. We know the tricks they play and how to beat them at their own game, and we have been doing this for over 20 years. In this time, we've helped thousands of people nationwide get the disability benefits they need and deserve.
Call us today for a free consultation.