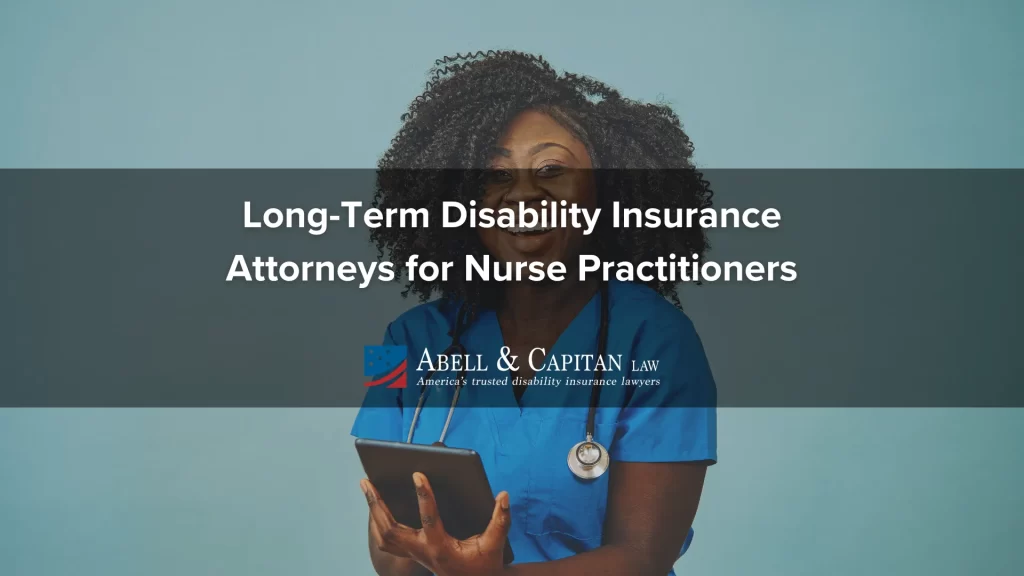 Long-Term Disability Insurance for Nurse Practitioners
Nurse practitioners are the lifeblood of almost any medical clinic or healthcare facility. NPs have advanced clinical training beyond their initial professional registered nurse credentials. These medical professionals have specialized skills and knowledge and provide patients with comprehensive and compassionate care. Unfortunately, nurse practitioners also face a growing number of hazards in the workplace that can render them unable to fulfill their duties and obligations.
At Abell and Capitan Law, we understand how integral nurse practitioners are to the patients and healthcare facilities they serve. We also know that workplace hazards and injuries, as well as illnesses that can befall any person, can put nurse practitioners on the sidelines, unable to work, and facing financial instability due to their injuries. We aim to help NPs recover the long-term disability benefits they deserve so they can focus on taking care of themselves instead of others.
Are you a nurse practitioner who is now unable to work because of an injury or illness? Discuss your situation with an experienced long-term disability attorney. At Abell and Capitan Law, we want to help you recover the LTD benefits you paid for so you can support yourself while you cannot work. Call our office today at (267) 419-7888 to speak with a long-term disability advocate for free.
What Is Long-Term Disability Insurance?
Long-term disability insurance policies are typically offered to employees by their employer as part of a benefits package. If the employee purchases an LTD policy, the benefits will provide financial support when a severe injury or illness prevents them from working for an extended period. Long-term benefits may replace between 50 and 60 percent of an individual's income. This income stream provides valuable financial stability during challenging and uncertain times. Depending on your policy, long-term disability benefits may also offer cost of living adjustments, allowing your benefits to increase with the cost of living over time.
Long-term disability benefits should not be confused with workers' compensation or Social Security disability income benefits. Workers' compensation benefits are a form of insurance benefit that an employer may provide. However, these benefits typically only extend to individuals injured on the job. Workers' compensation coverage is mandatory in both Pennsylvania and Kentucky and must be provided by employers in many other jurisdictions. The Social Security Administration oversees the payment of Social Security benefits from money paid in by workers over their working lifetime.
Private insurance companies generally administer long-term disability policies, which tend to be offered as a workplace "perk" in addition to short-term disability benefits and healthcare coverage. Individuals may also purchase long-term disability coverage from an independent insurance company. Additionally, you do not need to be injured at work to be eligible to apply for long-term disability. 
Common Disabling Health Conditions Among Nurse Practitioners
Nurse practitioners face numerous challenges in the workplace, which can lead to severe and debilitating illnesses and injuries. Nurse practitioners may be required to lift or move patients, leading to sprain, strains, and soft tissue injuries. NPs may also be exposed to potentially dangerous pathogens while working in a clinical setting or when exposed to bodily fluids.
Unfortunately, nurse practitioners often see people at their worst when they are sick or in pain. Sometimes, patients become frustrated and violent, lashing out at the caregivers trying to help them. Physical altercations from disgruntled patients, those suffering a mental health crisis, or patients with altered states of consciousness due to diabetes or alcohol consumption can cause significant injuries to caregivers, especially nurse practitioners.
Some of the most common disabling health conditions nurse practitioners may face include:
Illness from infectious diseases
Injuries from violent altercations
Broken bones
Dislocations
Facial injuries
Visual impairment
Cancer
ALS
MS
Alzheimer's
Parkinson's
HIV/AIDS
Challenges Nurse Practitioners Face Filing for Long-Term Disability Benefits
Nurse practitioners work long hours under stressful and physically demanding conditions. It may not be possible for an NP to return to work and fulfill their duties and obligations following a severe injury or illness. Thankfully, that's what long-term disability benefits are for. They provide some financial stability during uncertain times. However, recovering the benefits you deserve can be challenging.
For-profit insurance companies are typically responsible for administering long-term disability benefits. It is in the insurance company's best interests to keep payouts low. Many people are frustrated by the insurance system because it seems to incentivize companies to narrowly interpret benefit terms and the definition of a long-term disability. It also may feel like it incentivizes insurance companies to deny claims.
Some of the most common hurdles those seeking long-term disability benefits must overcome include:
Policy definition of disability
Policy limitations
Policy exclusions
Duration of benefits
Filing for the benefits you need can be a time-consuming and tedious process. Mistakes, omissions, and missing or insufficient documentation can cause significant setbacks and result in claim denial.
Why Nurse Practitioners Need a Long-Term Disability Attorney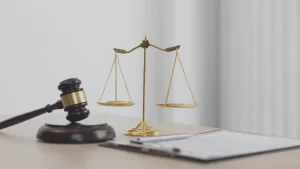 You pay for the privilege of receiving long-term disability benefits. Fight against the common tactics insurance companies use to deny your claim or limit your coverage benefits by seeking the advice of an experienced long-term disability insurance attorney. An attorney can help you prepare a strong claim, demonstrating your medical need and advocating for you. An attorney can also manage all communication between you and the insurer while demanding the benefits you deserve.
Give yourself time to heal. Let a knowledgeable long-term disability insurance attorney manage your claim and help you through the challenges of filing a long-term disability benefit claim.
Contact a Long-Term Disability Insurance Attorney for Nurse Practitioners Today
As a nurse practitioner, you spend your day meeting the needs of your patients. Let someone take care of you during your time of need. At Abell and Capitan Law, we want to help you collect the long-term disability benefits you paid for. We can prepare your claim and advocate for you during the claim process. Has your claim been denied? We are prepared to fight for you and file an appeal.
With offices in Pennsylvania and Kentucky, we help nurse practitioners in numerous jurisdictions seek the benefits they need to focus on their recovery. Call our office today at (267) 419-7888 for more information and to arrange a free legal consultation.
Related Posts: