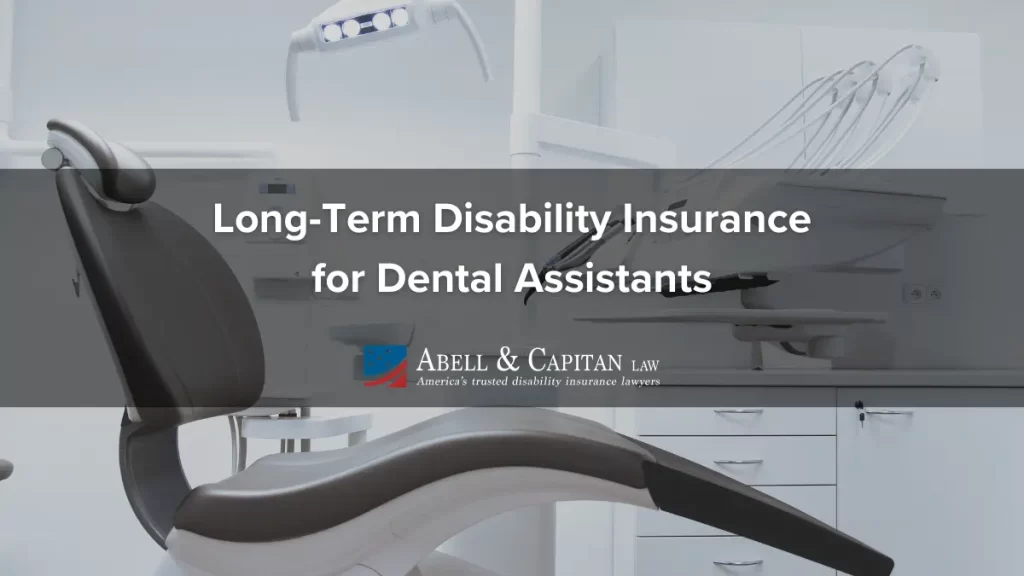 Long-Term Disability Insurance Attorneys for Dental Assistants
Dental assistants and hygienists play vital roles in improving our overall oral health. The job's chairside nature makes it more customer-facing than some other professions. A severe injury or medical diagnosis can change the course of a dental assistant's career.
If you can't work due to a disabling injury or health condition, you might qualify to receive long-term disability (LTD) benefits. The Abell and Capitan Law team has helped clients in the dental field understand their disability insurance policy, apply for benefits, and appeal denied claims. We're ready to answer your questions in a free legal consultation. Call our Kentucky or Pennsylvania offices at (267) 419-7888 today to speak with an occupational disability attorney.
All About LTD Insurance for Dental Assistants
Many dental clinics enroll their providers and staff in a group long-term disability policy along with other benefits. If your employer doesn't offer group LTD insurance, or if you desire additional coverage, you can enroll in an LTD policy on your own.
What qualifies as a "disability" will depend on your insurer's specific terms. Generally speaking, there are two types of disability policies:
The terms of an LTD policy can change over time. For example, a policy might begin as "own-occupation" and transition to "any-occupation" after five years. When you enroll in an LTD plan, your insurer will give you a document outlining your policy's scope. If you have questions on the more technical jargon, an attorney can offer clarification and advice.
Why Might a Dental Assistant Seek Long-Term Disability Benefits?
Dental assistants use fine motor movements, keen eyesight, and quick thinking each day they're on the job. If you're in the dental field, any of these conditions could hinder your ability to work:
Why Might My Claim Have Been Denied?
Like other businesses, insurance companies want to make profits and minimize losses. They will not hesitate to protect their bottom line if they believe denying a claim would be justified. Some reasons an insurer might issue a denial include:
Sometimes, an insurer misinterprets a policy or disregards its internal procedures. If your claim was denied due to errors or improper conduct, and if the insurer does not rectify the situation, we recommend hiring an attorney as soon as possible.
How Do Long-Term Disability Appeals Work?
If your insurer has denied your claim, you can file an appeal and ask them to reverse their decision. You'll need to provide additional evidence, such as:
In most situations, you'll have 180 days to file your appeal. The insurer will then have 90 days to respond. Some insurers have only one level of appeal, while others have more.
How Can an Attorney Help Me?
Our team recognizes the complexity of each LTD claim, and we aim to guide you through each step of the process. Some ways we can help include the following:
Consult a Dental Assistant LTD Attorney
If you can no longer work as a dental assistant due to a debilitating injury or illness, contact the attorneys of Abell and Capitan Law to learn more about your legal options. With offices in Louisville and greater Philadelphia, we're proud to help Pennsylvania, Kentucky, and New Jersey residents with their LTD claims. For a free consultation, call us at (267) 419-7888 today.
Related Posts: