Posted on Tuesday, November 1st, 2022 at 5:02 pm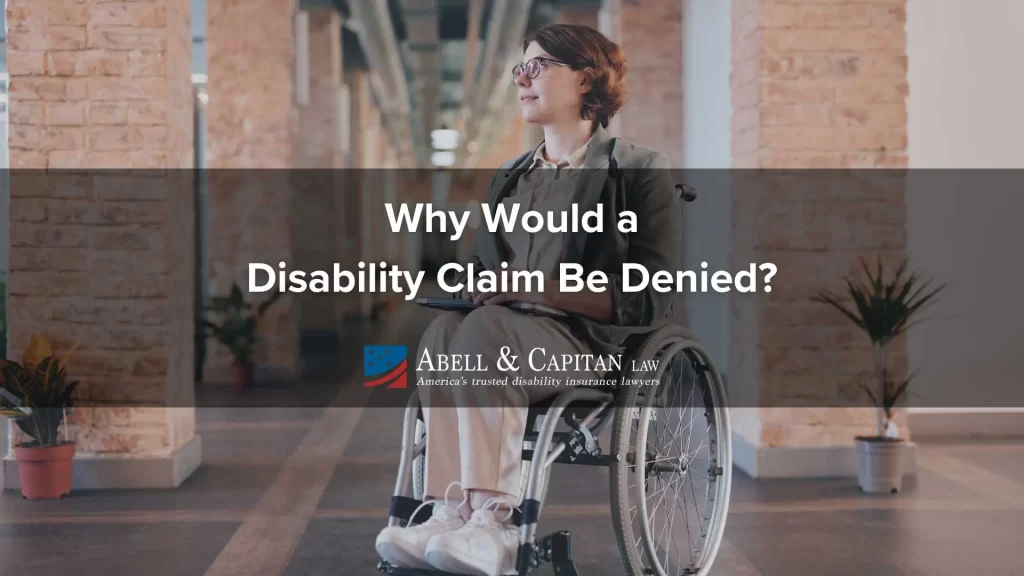 Receiving a denial letter after applying for disability can be frustrating. You know you are entitled to benefits for your medical condition but don't understand why the insurance company denied your claim. Why would a disability claim be denied?
Below are the most common reasons for denied disability claims. You should review them to avoid making common errors others make.
Filing a Claim Too Late
Many disability insurance policies require policyholders to file claims within a specific timeframe. Filing late will likely lead to a denied claim because you did not meet the terms of the policy.
Insurance companies often include timeframes in policies so they can manage claims properly. They need sufficient time to review and investigate to determine liability.
Failing to Respond to the Insurer
A common misconception about filing a claim is that the work is done once the necessary documentation is submitted. However, insurance carriers must confirm the qualifying medical condition even after approving the claim. They might contact you for updated medical records and other information showing you still require disability benefits.
The insurer might want to interview you about the claim over the phone for more information about your injury or illness. Or they can send you to a doctor to get their own assessment of your disability. They could terminate your benefits if you don't comply with their request or choose not to respond.
Having a Pre-Existing Condition
Many insurance policies contain a pre-existing condition exclusion clause. That means a condition that predates the start of the policy can prevent a policyholder from receiving benefits for their injury or illness.
Insurance companies must determine when you first saw a doctor for a condition requiring disability coverage. If the diagnosis occurs before the policy start date, the insurer can deny your claim.
Providing Inadequate Evidence of a Disability
You must have medical evidence to prove you are entitled to disability insurance benefits. Options include submitting diagnostic test results, such as X-rays and blood tests, to the insurance company. Another choice can be to provide documentation from your medical providers to show the type of treatment you seek, your symptoms, and how the condition affects your daily life.
Most claimants think a report advising the type of diagnosis is enough to prove a disability. However, details regarding symptoms' duration, intensity, frequency, and severity are also necessary. What you provide should support your claim of the inability to work or earn your usual income because of a medical condition.
A denied claim due to insufficient evidence can also mean the insurance carrier doesn't agree with your initial physician's diagnosis. The insurance company might require you to attend an independent medical examination. The independent medical exam (IME) is an appointment to determine whether the claimant's injury or illness qualifies for disability benefits. They will choose the doctor you must go to for an evaluation of your condition to see if that doctor agrees with your original provider's assessment and diagnosis.
Not Attending the Independent Medical Exam
Many disability insurers require an assessment by a medical provider of their choice. Attendance isn't optional. You must go to the scheduled appointment. If you skip it, the insurer could deny your claim or terminate your current benefits. You might think the appointment isn't necessary, but choosing not to attend can do more harm than good.
Refusing to Undergo Reasonable Medical Care
Some disability policies require claimants to seek reasonable medical treatment to receive benefit payments. The insurer's determination of "reasonable" depends on the terms of the policy. Typically, insurance companies consider the frequency and duration required to cure or manage a qualifying condition.
You might have to attend appointments with specific doctors each week during a particular timeframe for the insurer to provide coverage. Refusing to comply with the duration or frequency of medical treatment required can lead to a denied claim or termination of benefits. You should confirm the insurance company's definition of reasonable medical care to ensure you stay within the parameters of its requirements.
Speak to a Dedicated Disability Insurance Appeals Lawyer Today
Abell and Capitan Law isn't afraid to fight insurance companies for the benefits our clients deserve. We have experience filing appeals and providing evidence to support claims for disability benefits. When you're out of work and unable to earn a living, you can count on our legal team to protect your rights and pursue the benefits you're entitled to.
If you received a denied disability insurance claim and need assistance appealing the decision, call the long-term disability attorneys of Abell and Capitan Law at (267) 419-7888 now for your free consultation.
Related Posts: