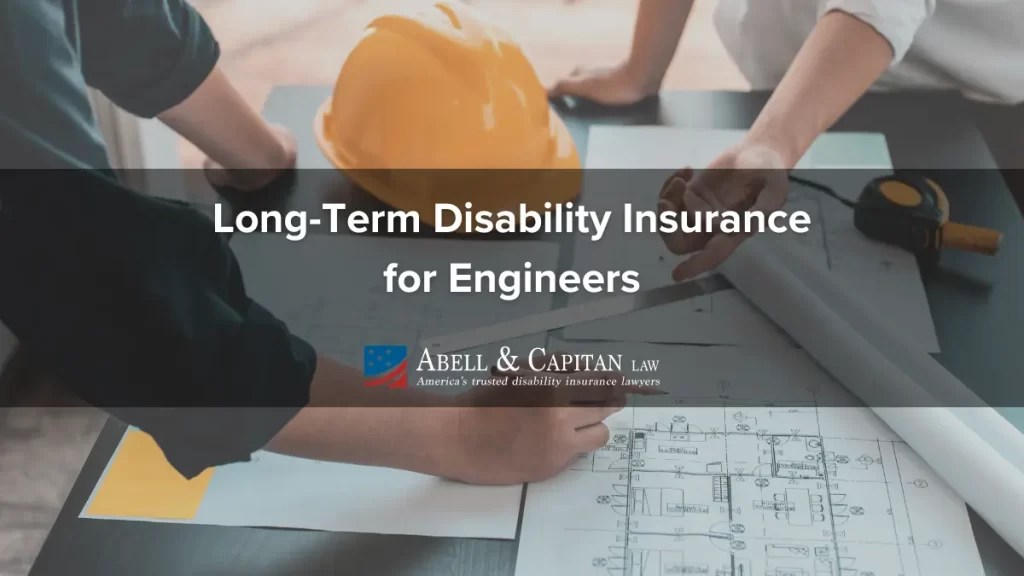 Long-Term Disability Insurance for Engineers
Engineers are vital to numerous job industries throughout the country. They must have an aptitude for problem-solving, extensive knowledge of math, science, and engineering techniques, and razor-sharp attention to detail.
If you are an engineer who can no longer work due to an injury or illness and can't get the long-term disability benefits you need, contact Abell and Capitan Law immediately. When you're unable to earn an income, affording your medical care and daily living expenses is challenging.
Abell and Capitan Law can help you file a long-term disability (LTD) insurance claim or appeal a denied claim. Our LTD attorneys will fight for the benefits you deserve. Call us at (267) 419-7888 for a free consultation today.
Common Medical Conditions Suffered by Engineers
An injury or illness must prevent you from performing work-related tasks to qualify for LTD benefits. Various medical conditions and impairments can cause physical or mental limitations that interfere with job abilities. Some make it impossible to maintain any employment.
Common medical conditions that can keep engineers from their jobs include:
Medication side effects – Prescription medications for treating certain health problems can cause adverse effects. They might cause fatigue, brain fog, or an inability to focus. Working productively and safely as an engineer is no longer possible if prescriptions negatively affect cognitive or physical abilities.
Posture and back problems – Engineers commonly sustain back injuries and struggle with posture issues. Working in environments requiring physical exertion and movement or sitting in front of a computer for prolonged periods can take a toll on back muscles, joints, tissue, and nerves.
Vision loss – Hypertension, diabetes, glaucoma, and other health conditions can lead to vision loss. Blurred vision, vision impairment, or blindness create significant issues for engineers. Performing occupational duties is impossible when clear vision is necessary to test electric equipment, maintain power plants, or design new manufacturing processes.
Carpal tunnel syndrome – Carpal tunnel syndrome affects the nerves, tendons, and ligaments in the wrist. It can cause arm or hand pain and weakness. Engineers must use their hands to type on a keyboard, grip tools, and complete other tasks. When pain interferes with physical functioning, continuing to do the job could become impossible.
Neurological disorders – Neurological disorders are among the most common medical conditions engineers face. Dementia, epilepsy, and stroke are a few examples. They can lead to personality changes and depression. Conditions like Alzheimer's disease severely diminish cognitive abilities, causing memory loss and other problems.
Understanding Your Long-Term Disability Insurance Policy

You must review your long-term disability insurance policy to understand your coverage information. Typically, LTD coverage comes from individual policies or employer-paid group policies. An individual policy is an insurance plan someone purchases separately from the plan their employer might offer. An employer-paid group policy is a plan offered to employees as part of their employment package. The type of disability policy you have will determine your eligibility for LTD benefits.
Determine whether your policy is an "own occupation" policy or an "any occupation" policy. If you have an "own occupation" policy, you've purchased coverage that would apply if you can no longer perform your job. An "any occupation" policy provides coverage only if you can't work in any capacity.
Own Occupation Policy
An "own occupation" policy will provide benefits if you cannot perform the specific duties or your particular occupation. An example might be a professional guitarist who loses the use of their hands. If they have an "own occupation" policy, they would be paid LTD benefits, regardless of whether they could perform some other type of job, like doing voiceover work or answering phones.
Any Occupation Policy
With the "any occupation" policy, the primary consideration is whether you can perform the material job duties of any occupation consistently and reliably. It looks at more than just engineering jobs. You might be able to seek employment in another position or industry.
Any occupation policies sometimes include a "gainful occupation" component. That means your ability to perform the material duties of any gainful occupation will be taken into account.
Your benefits likely have a specific duration. Typically, you could collect LTD benefits for 24 to 36 months. If you have an own occupation policy, it might contain a clause that allows own occupation benefits for the first 24 months and then reverts to an "any occupation" policy.
At that time, the insurance carrier will review the necessary information to confirm you meet the requirements to be eligible for "any occupation" coverage.
Appealing a Denied Long-Term Disability Claim
You have a right to appeal the insurance company's decision if you believe they denied your claim unfairly or made an error while processing it. Qualifying for an appeal requires proving you are eligible for LTD benefits. That means you must have substantial evidence that a medical condition prevents you from returning to work as an engineer.
Objective medical evidence is valuable in building a solid case for appealing a denied claim. Evidence can include your medical history, up-to-date treatment records, and prescribed medications. You should also obtain statements or letters from your medical providers with detailed information regarding your injury or illness and how it prevents you from doing your job.
Third-party witnesses are also essential in LTD appeals. You can acquire written statements from family members, friends, and coworkers. They might see you often and can speak about your daily struggles due to your medical condition. They can explain your physical or mental limitations and the tasks you're unable to complete independently, such as showering, driving, or laundry.
Seek the Long-Term Disability Benefits You Deserve As an Injured Engineer
You depend on various physical and mental faculties to do your job as an engineer. When those faculties fail, you can't work and might suffer severe financial hardships.
At Abell and Capitan Law, we believe in protecting the rights of people who cannot work because of a disability. We have offices in Pennsylvania and Kentucky and welcome clients in Pennsylvania, Kentucky, and New Jersey. Our team will evaluate the circumstances of your claim and determine whether we can take your case. If we do, we will aggressively pursue the benefits you paid for to provide income when you can't work.
You can count on us to fight for you whether you're filing an initial LTD claim or appealing a denied claim. If you're an engineer with a disabling condition, call us at (267) 419-7888 for a free consultation at one of our offices to get started.
Related Posts: