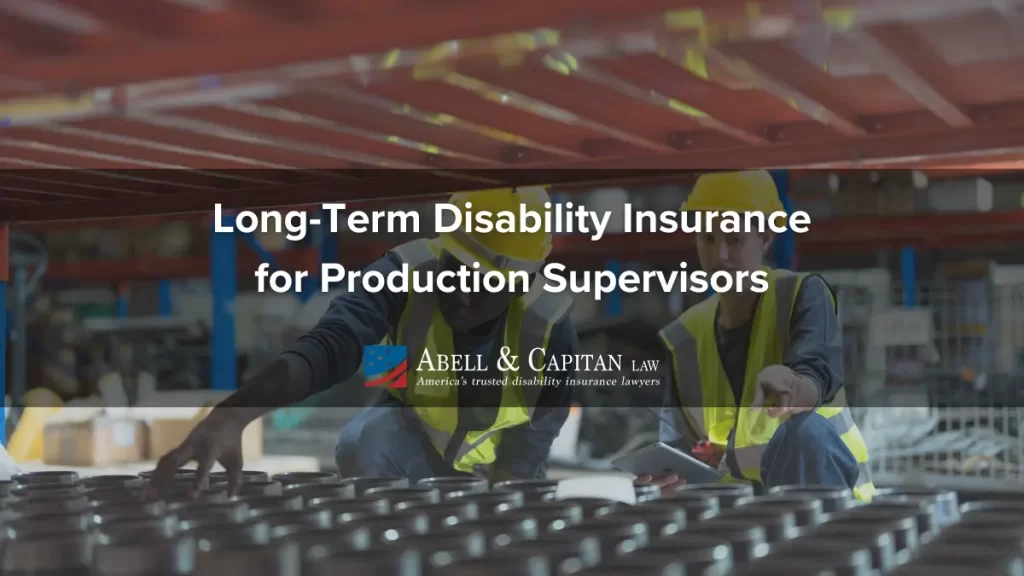 Long-Term Disability Insurance for Production Supervisors
Production supervisors oversee and organize staff, processes, and equipment on a production floor. They manage scheduling and routine production tasks and help troubleshoot issues that arise. Although they usually do not involve themselves in strenuous physical activity, stress can cause migraines, anxiety, and other debilitating medical conditions.
An injury or illness can prevent a production supervisor from returning to work. When that happens, long-term disability (LTD) benefits are necessary to supplement a portion of lost wages.
Our LTD attorneys from Abell and Capitan Law represent injured production supervisors in Kentucky, New Jersey, and Pennsylvania. Call us at (267) 419-7888 for a free consultation to learn more about what we can do for you.
How Long-Term Disability Insurance Works
Long-term disability insurance provides benefits to employees who are unable to earn an income due to an injury or illness. Coverage can be through an employer-paid plan or an individual policy.
An employer-paid LTD plan is a policy offered by an employer that provides benefits when an employee's medical condition keeps them out of work. Your employer might cover 100% of the premiums or part of them, with the remaining portion getting deducted from your paycheck. Either way, you should collect benefits if you can't return to your job after getting hurt or sick, regardless of whether the disability is work-related.
An individual policy is a disability insurance plan someone purchases and maintains themselves. You pay the monthly premiums to keep the policy active. The plan is separate from one your employer might offer you.
Types of Long-Term Disability  Insurance Policies
Whether you have an individual or employer-paid LTD policy, the type of coverage you purchased is crucial to determining your eligibility for benefits. Most LTD plans have "own occupation" or "any occupation" coverage.
Own Occupation Policy
Own occupation insurance covers an employee who is unable to perform the cognitive and physical material duties required to do their job. If you are completely unable to perform the functions of your particular production supervisor job and you purchased own occupation coverage, you should be entitled to LTD payments.
Any Occupation Policy
Any occupation insurance covers an employee who is unable to consistently and reliably perform the material tasks of any job. With this type of coverage, even if you cannot perform your own job, you cannot obtain LTD benefits unless you cannot perform any work at all. You will be ineligible for LTD benefits if you can work in any capacity in any job.
When you purchased your LTD policy, you purchased coverage for a specific number of years. If you have an "own occupation" policy, you might find that after a predetermined period passes, your policy will revert to an "any occupation" policy. The switch often occurs after 24 months.
Be sure to review your policy so you are prepared for this eventuality. As it is more difficult to meet the requirements of being unable to perform any job, you should contact an attorney to help you determine how you can continue to obtain benefits.
Common Reasons for Denied Long-Term Disability Claims
As a production supervisor, many people depend on you for guidance at work. You manage multiple workers and responsibilities daily. When an injury requires you to take time off, the financial strain you experience can be overwhelming.
Filing a claim for LTD benefits can offer the financial relief you need. However, there is no guarantee the insurance carrier will approve your claim. Insurers want to save money. The goal is to avoid paying benefits whenever possible. That means the adjuster will seek valid reasons to deny or underpay your claim.
The most common reasons insurance companies deny production supervisors' LTD claims include:
The injury doesn't meet the required level of disability – Your medical condition must meet specific guidelines and terms. If it doesn't, the insurer has a right to deny your claim.
Insufficient medical evidence – You must submit substantial medical evidence to prove you have an injury or illness that prevents you from working. That can include diagnostic tests, prescriptions, doctor's notes, and physical therapy reports. You must also show proof of the ongoing medical care required to treat your injury.
Missing physician's statement – Medical records are valuable. However, a doctor's statement detailing your medical condition and how it limits your job abilities is critical. It can bolster your claim and improve your chance of receiving benefits. Without one, the insurer might be unable to confirm whether your injury or illness limits your physical or mental functioning.
Ineligible medical condition – Long-term disability policies outline the injuries and illnesses they cover. They also contain exclusions that automatically make someone ineligible for benefits, such as self-inflicted injuries, alcohol abuse, and preexisting conditions.
Disputes by the independent medical examiner – The insurance company will likely require you to attend an independent medical exam (IME). An IME is an opportunity for the insurer's doctor of choice to evaluate your condition and determine whether they agree with your initial physician's diagnosis. The insurer can deny your claim if the independent medical examiner determines you don't have a disabling condition.
Get Started on Your Long-Term Disability Claim Today
Lastly, Abell and Capitan Law can help you secure the benefits you deserve, whether you're filing a long-term disability claim or an appeal to reverse the insurance company's decision. Our long-term disability lawyers will protect your rights and fight by your side until the end.
With offices in Pennsylvania and Kentucky, you won't have to travel far to see us. Finally, Call (267) 419-7888 for a free consultation if you can't return to your job as a production supervisor due to a medical condition and need LTD benefits.
Related Posts: