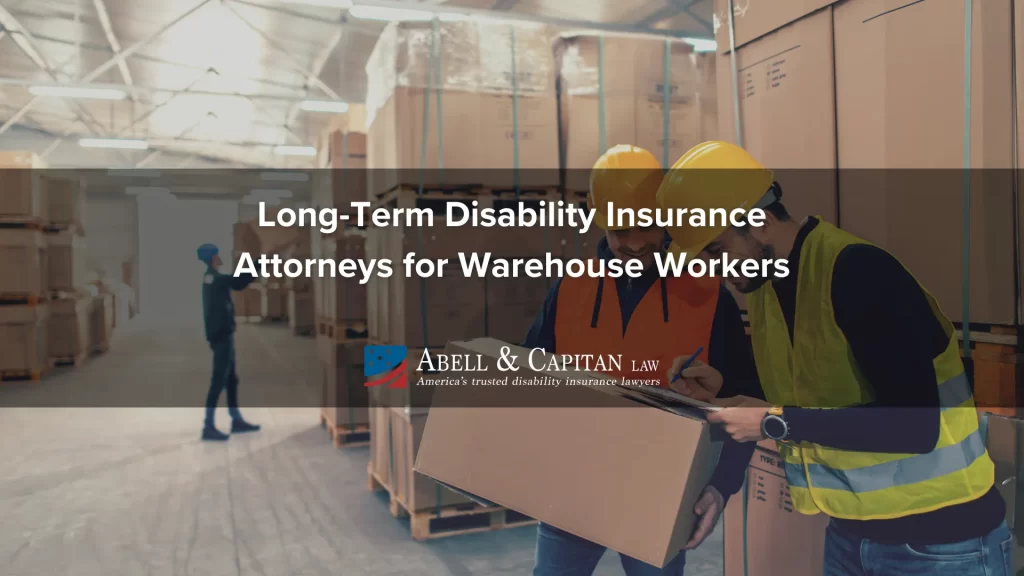 Long-Term Disability Insurance for Warehouse Workers
Working in a warehouse can be mentally and physically taxing. Whether at home or in the workplace, warehouse employees are susceptible to debilitating illnesses and injuries. These medical conditions can sideline a warehouse worker, suddenly throwing them into a state of financial uncertainty and chaos.
At Abell and Capitan Law, we understand how frightening it can be when you don't know how to make ends meet. Our experienced legal team has the knowledge and resources to help injured warehouse workers obtain the long-term disability insurance benefits they've paid for.
Do you need help applying for long-term disability benefits? Are you worried your insurance company may deny your claim, leaving you without a steady income stream while you recover? Turn to the disability attorneys for warehouse workers at Abell and Capitan Law for assistance. Call our office at (267) 419-7888 for a free case evaluation. We advocate for people in Pennsylvania, Kentucky, and New Jersey.  
What Is Long-Term Disability Insurance?
Think of long-term disability insurance as a safety net. Many businesses offer long-term disability insurance policies to their employees as a "perk." The employee pays the premiums for this policy, and if they become disabled from working on a long-term basis, the benefits outlined in the policy kick in. However, individuals can opt to purchase their long-term disability coverage privately as well. Private, for-profit insurance companies generally administer long-term disability benefits.
Long-term disability benefits extend financial support to an injured or ill individual when their condition prevents them from returning to the workplace for a certain period. Most plans pay a person 50 to 60 percent of their income. Some plans also offer cost of living increases over time. They might also waive insurance premiums.
Long-term disability benefits vary depending on the insurance company and specific policy. To understand what benefits you may be entitled to receive, review the policy documents provided to you by the insurance company.  
Long-Term Disability Insurance Vs. Workers' Compensation for Warehouse Workers
Long-term disability benefits and workers' compensation benefits are often confused with one another. Although both are forms of insurance benefits, that's where the similarities end. In Pennsylvania, Kentucky, and New Jersey, the law requires employers to provide employees with workers' compensation insurance benefits. These benefits cover medical expenses and provide partial wage replacement benefits following a workplace injury or illness.
Long-term disability benefits also help replace lost income when a person is injured or ill. However, the illness or injury does not have to be job-related to make a person eligible to apply for benefits. Numerous private insurance companies provide long-term disability benefits, so the terms and benefits offered can vary from policy to policy.
When long-term disability policies are purchased, the insurance policy document outlines the specific terms of the insurance, including how much income replacement you can expect, the length of time you can receive benefits, and waiting period stipulations.
Common Disabling Health Conditions Among Warehouse Workers
Warehouse workers often work long hours and under demanding circumstances. Most warehouse workers engage in physical and manual labor that can affect their physical health. Lifting and moving heavy loads is common and can eventually contribute to severe strains, sprains, and soft tissue injuries. Warehouse workers may also work alongside dangerous tools and equipment like heavy machinery and forklifts. Forklifts are notorious for causing devastating injuries like traumatic brain injuries, broken bones, and crushing injuries.
Falls and falling objects are also concerns for warehouse workers. Warehouse workers are often required to stack boxes and pallets. When just one of these objects falls from a shelf or forklift, it can lead to traumatic and debilitating injuries.
Unfortunately, warehouse workers aren't immune to the catastrophic effects of dangerous chemicals or hazardous substances. Some warehouses contain chemicals, solvents, paints, heavy metals, and other substances that could pose a significant risk to a person's health and lead to respiratory illnesses or cancer.
Additionally, like everyone, warehouse workers are subject to other, non-work-related disabling illnesses, as well.
Some of the most common disabling health conditions among warehouse workers tend to include:
Broken bones
Crushing injuries
Overexertion injuries
Neck injuries
Traumatic brain injuries
Lacerations
Visual impairments
Hearing impairments
Respiratory illnesses
Cancer
Alzheimer's disease
ALS
Multiple sclerosis
Huntington's disease
Filing a Long-Term Disability Insurance Claim
If you're suffering from a debilitating illness or injury, the last thing you want to worry about is filling out insurance paperwork. Unfortunately, making a mistake, omitting information, or not providing adequate medical documentation can jeopardize your claim. Insurance companies are for-profit businesses. By design, it benefits the company to limit payouts and deny claims that do not meet specific criteria. Navigating the red tape can be time-consuming and confusing. Many people run up against hurdles when filing their long-term disability claim like:
Policy limitations
Policy exclusions
Duration of benefits
Lack of supporting medical evidence
Confusing waiting periods
Confusing policy definitions of long-term disability
Paying into the insurance system doesn't guarantee you'll get the benefits you need, and many people find that their long-term disability claims face denial.
Why You Need a Warehouse Worker Long-Term Disability Lawyer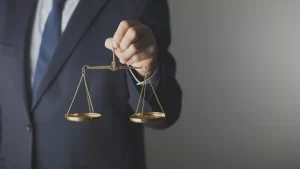 You don't want to have to fight your insurer for the benefits you need. Instead, focus on your recovery and hand the reins to an experienced warehouse worker long-term disability attorney. An attorney can wade through the red tape and help you file a strong claim, improving your chances of obtaining the benefits you deserve. At Abell and Capitan Law, we can guide you through the claim process, gathering the necessary documentation to build a solid claim for benefits. We can review your claim and help mount an appeal if you've applied and received a denial.
Contact a Long-Term Disability Insurance Attorneys for Warehouse Workers Now
Don't wait another day to get the long-term disability benefits you paid for. Contact a long-term disability insurance attorney for warehouse workers today. At Abell and Capitan Law, we are committed to making the claim process as stress-free as possible for you. Our skilled attorneys can help Pennsylvania, Kentucky, and New Jersey residents. Call (267) 419-7888 to arrange a free and confidential case evaluation.
Related Posts: