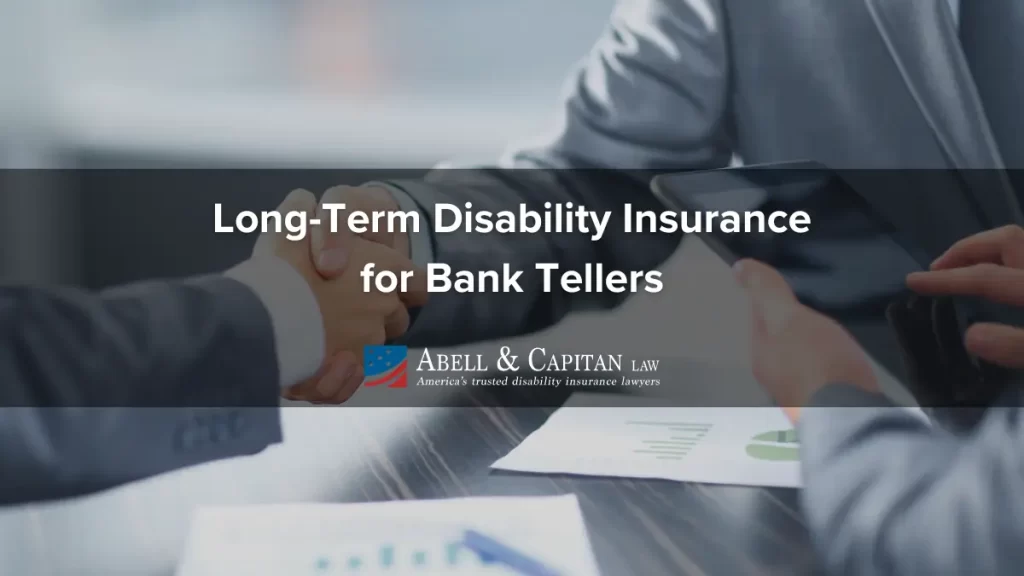 Long-Term Disability Insurance For Bank Tellers
Bank tellers are the first faces customers see when they visit their bank branch. Sometimes, customers come in with complaints. It is up to bank tellers to figure out what they need and provide it, whether it is processing a transaction or referring the client to a bank manager or other representative.
Like many customer-facing jobs, being a bank teller is often mentally and emotionally demanding. Standing or sitting for hours, lifting cash drawers and currency bags, and handling disgruntled customers can take a toll. So, it is only reasonable that after working so hard, you expect your long-term disability (LTD) coverage to be there if needed.
Remember, any representative from the insurance company is not on your side. Their job is to save the company money, usually by denying or devaluing claims. But solid legal representation can make you more likely to win on your initial claim or appeal.
Abell and Capitan Law is an experienced LTD firm that helps claimants prevail over insurance companies. We represent clients throughout Pennsylvania, Kentucky, and New Jersey who need financial stability after disability. Call us at (267) 419-7888 for a consultation with our disability attorneys for bank tellers.
Material Duties Performed by Bank Tellers
Bank tellers work at bank branches, although some may have jobs within a bank's corporate office. They interact with the bank's customers and process their transactions, including deposits, cash withdrawals, cashier's checks, and other services. At the end of the day, they reconcile the cash drawer and package currency and coins, often carrying them to a vault. They must prove each transaction with receipts and reports.
The work environment requires long hours of sitting or standing. All tellers must maintain a cheery disposition with customers and pay attention to details. The banking industry does not tolerate errors, so there can be some pressure to perform near-perfectly, even when a teller is distressed or in pain.
Teller jobs are computer-dependent, too. So, they also perform clerical tasks involving a keyboard and data entry.
Generally, insurance companies consider this occupation to be sedentary work. However, it can become light work since tellers often stand and lift heavier objects like bags or boxes of currency or cash drawers.
Disabling Conditions Sustained by Bank Tellers
Bank tellers may file for LTD due to physical and mental health conditions. Conditions arising from repetitive use of hands are common. Carpal tunnel and tendonitis may cause pain and become disabling. Surgery and pain control will help, but these are generally chronic conditions.
Standing and sitting for long hours may lead to back problems. It may start as a strain or soreness, which is more irritating than downright painful. However, these issues can leave a bank teller more vulnerable to other disabling conditions like arthritis, degenerative disc disease, herniated discs, and spinal stenosis.
Interacting with the public and handling large amounts of currency may cause stress-related disorders. If there is a bank robbery or other traumatic event at work, bank tellers can suffer from post-traumatic stress disorder (PTSD.) Depression and anxiety can develop or become worse after being a bank teller for a time.
Physical conditions can make standing for long hours or lifting items impossible. Bank tellers may perform their work more slowly or injure themselves further. Also, anxiety, depression, and other mental health disabilities can eliminate the ability to pay attention to detail or interact well with customers. Sometimes, the "face time" required for bank tellers becomes unbearable.
Why Insurance Companies Deny LTD Claims
You must prove you have a disabling condition to receive LTD. Insurance companies are more likely to fight claims involving sedentary or light work conditions because they consider them low-demand jobs. So, it would help if you had a strong case to convince an adjuster of your disability.
However, even a good case can end with denying the initial LTD claim. Some reasons for rejection include:
You can work another job or in another capacity at the bank.
Medical documentation is allegedly incomplete or inaccurate.
The job description presents your bank teller job as more sedentary than it is when you actually perform it.
Your policy contains limits for mental health disabilities.
The adjuster believes you did not comply with treatment requirements.
The type of LTD insurance can also affect whether your claim is accepted or denied. If your policy has "own occupation" coverage, you must prove that you can't perform your current job. For example, if your bank branch requires tellers to stand, but a back or knee condition makes this impossible, you can receive benefits because you can't work as a bank teller.
But if your coverage is "any occupation," you must prove you can't work at all. So, if your disability makes it possible to perform other work, the adjuster will deny your claim. Using the example above, even if you can't stand for long hours, the insurance company will claim you could work for a bank where tellers sit most of the time or find a sedentary clerical job.
Are You a Disabled Bank Teller? Call Us for Help!
If you filed an initial claim and had it denied, you still have options. LTD insurance companies offer an appeal process where you can provide additional evidence, including more detailed medical information and testimony from friends, family members, and coworkers. This information could be enough to reverse a claim denial and allow you to receive benefits.
But insurance companies never make the claims process easy. If anything, they do everything possible to make it complex. That is why a long-term disability lawyer can help you receive the benefits you need. At Abell and Capitan Law, we helped many Pennsylvania, Kentucky, and New Jersey bank tellers receive the benefits they needed when they could no longer work.
When you visit us for a consultation, we will review your claim, injury information, and circumstances and determine if you have a good case. If so, we will take the next steps to file your first claim or appeal a denied one. Call us today at (267) 419-7888 to discuss your claim further during a free initial consultation.
Related Posts: