Cubital Tunnel Syndrome Long Term Disability Attorneys
If you have pain or swelling in your elbow or are experiencing numbness, tingling, or pain in your pinky and ring fingers and have difficulty moving them or holding onto things, you are likely concerned as to the cause. Worse yet, perhaps the symptoms have affected your ability to do your job, and you are desperate to find a cause and hopefully get some relief.
You may be experiencing symptoms of a condition called cubital tunnel syndrome, and you may qualify for long-term disability benefits if your condition prevents you from working. Your long-term disability benefits could provide the money you need to support yourself and your family when you can no longer work.
Abell and Capitan Law is one of the country's premier long-term and short-term disability law firms, and we have successfully handled numerous cases across the nation involving chronic conditions that affect hard-working people just like you. With offices located in Philadelphia, Chadds Ford, and Newtown Square, Pennsylvania, as well as one in Louisville, Kentucky, we are one of America's most prominent legal practices for all areas of disability insurance and ERISA benefit claims. You can contact our upper extremity impairment long term disability attorneys at (267) 419-7888 to speak with us, or you can use our contact form to request a free consultation.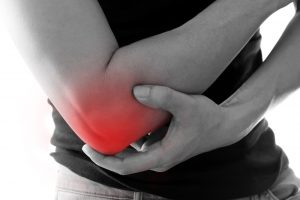 Understanding Cubital Tunnel Syndrome
According to the Cleveland Clinic, cubital tunnel syndrome affects the ulnar nerve and can cause pain, discomfort, and limited movement in a victim's elbow and their ring and pinky fingers. Much like carpal tunnel syndrome with the median nerve, cubital tunnel syndrome manifests when the ulnar nerve becomes compressed or irritated.
The ulnar nerve runs from your neck down to your hand, and it is responsible for helping you control your hand movements as well as providing sensations in your hand, fingers, and forearm. Cubital tunnel syndrome is also known as ulnar nerve entrapment because the ulnar nerve is being squeezed at the elbow at a location called the cubital tunnel, which leads to irritation and other adverse reactions.
Since the ulnar nerve affects the muscles in your forearm as well as those in your hand, you may find that you cannot grip and hold items very well. You may also find that your fine motor skills, such as those used for typing or playing a musical instrument, have been greatly affected. Incidentally, the ulnar nerve is most often referred to as the "funny bone," and it is what gives you that tingling sensation when you strike your elbow on something. While those types of incidents are usually short-lived, cubital tunnel syndrome is a chronic condition that requires medical treatment. If you have pressing questions about your case, reach out to us today.
Risk Factors for Cubital Tunnel Syndrome
Ostensibly, anyone can develop cubital tunnel syndrome at any time, but the following is a list of a few factors that may place you at higher risk of developing the condition:
Bending or using your elbow for long periods of time
Cysts or bone spurs on or near your elbow
Arthritis in your elbow
A history of elbow fractures or dislocations
Elbow swelling at the joint
Of course, having any of these symptoms does not mean you will develop the condition, and you may suffer from cubital tunnel syndrome without experiencing any early symptoms. The condition will need to be evaluated by a health care professional, and they will look at various factors to determine the cause. Their evaluation could include your anatomy and age, your activity level, and more. The condition can be exacerbated by constant pressure on the joint, over-stretching, and making quick, snapping movements with your arm, among other things.
Your health care provider will conduct a number of tests to diagnose the condition, including x-rays, blood tests, and electromyograms designed to show your muscles and nerves. They will also take into account how long you have experienced symptoms as well as other lifestyle-related questions, and they will want to gain a full understanding of your range of symptoms. Contact us today.
Symptoms of Cubital Tunnel Syndrome
Cubital tunnel syndrome mostly affects the elbow and the ring and pinky fingers of your hand. Symptoms can include numbness and tingling as well as pain, and you will likely have difficulty bending your arm, moving your fingers, or maintaining a firm grasp on an object you want to pick up or hold.
The pain can become so intense that it affects virtually every aspect of your daily life. Driving, typing, working with your hands, holding a phone, and other activities can be almost impossible, and the pain and discomfort can even affect your sleep. This is why it is so important to visit your health care provider as soon as possible if you are experiencing any of these symptoms.
In order to be eligible for disability benefits, your condition must prevent you from working. You will need your doctor's written opinion about your inability to work and how long they expect your disabling condition to persist.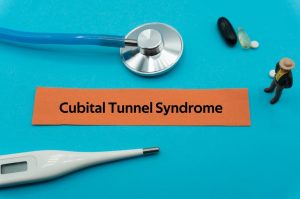 Work with a Leading Disability Attorney to Get the Help You Need
Here at Abell and Capitan Law, we have many years of experience helping our clients obtain the benefits they need to deal with their debilitating conditions. Since we focus solely on long-term and short-term disability claims, you can expect to receive an unmatched level of representation directly from a local lawyer who has your best interests at heart.
We understand the stress and anxiety you are likely experiencing, and you can rely on us to fight hard to help you get the benefits you deserve. We have substantial experience assisting our clients with submitting their initial disability claims, and we have successfully handled numerous appeals for our clients whose claims were denied. We have recovered millions of dollars in total compensation for hundreds of clients all across the country, and we are ready to help you through this difficult time in your life. You can read the testimonials from our satisfied clients to learn what they think of our firm.
Contact Us
When you need disability benefits because of a disabling condition, you can contact the upper extremity disability attorneys of Abell and Capitan Law at (267) 419-7888 or through our website's contact page. We offer free consultations, and our lawyers work on a contingency basis so that you won't have to pay any money upfront for us to assist you.