Smithfield Long Term Disability Lawyers
The Smithfield, Pennsylvania long term disability attorneys of Abell and Capitan Law work only on disability insurance law. By focusing exclusively on this narrow field, our attorneys are highly equipped to maximize our clients' chances of receiving long term disability benefits.
If you were injured and find yourself unable to work, you might be entitled to long term disability benefits. Yet, insurance companies do not make the claims process easy. They may have wrongly denied your claim or may have suddenly terminated your benefits.
The Smithfield long term disability insurance lawyers on our team recognize how devastating a disabling condition can be. We know how important disability benefits are to you and your family. Our team is committed to helping our clients get the full and fair amount of long term disability insurance benefits they are entitled to.
Although you may be entitled to insurance benefits after having paid premiums for years, insurance companies often look for reasons to deny your claim, reduce your benefits, or terminate benefits. After years of experience, the attorneys at Abell and Capitan Law have extensive experience overcoming these tactics and understand the different strategies that insurance companies may use to lower their costs.
Most people are intimidated by powerful insurance companies and may not understand their rights or the benefits to which they're entitled. It's critical to remember that you are not alone. When you hire an experienced attorney from our legal team, we will fight to ensure the insurance company treats you fairly and fight for your right to receive the benefits you are owed.
Call our Smithfield, Pennsylvania office today at (267) 419-7888 for your free, no-obligation legal consultation. We will listen to the details of your case and answer your questions.
What Is Long Term Disability Insurance?
Long term disability benefits are designed to replace an employee's wages if they develop an injury or an illness and they can no longer work. The benefits are usually paid at 50 percent to 80 percent of the wage the employee earned just prior to becoming disabled.
Most people get their long term disability insurance through their employer. In some cases, the employee pays the premium, and in other cases, the premiums for a long term disability plan are included in their benefits package.
When an employee has long term disability insurance, the benefits usually begin after coverage from short-term disability insurance ends. Depending upon the insurance policy, this can be between ten to 52 weeks after the qualifying event. Depending on the terms and conditions in the policy, an employee may also receive rehabilitation to help them to return to work.
How Can a Long Term Disability Insurance Lawyer Help?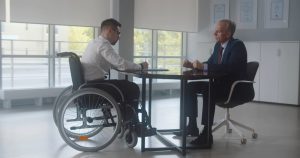 Long term disability insurance plans through an employer are governed by a federal law called the Employee Retirement Income Security Act (ERISA). The law was designed to protect employees, but over the years, various courts have interpreted aspects of ERISA to prioritize the interest of insurance companies and not employees.
Additionally, the law has a complex set of deadlines that must be met when making an insurance claim. This is one more stumbling block for many policyholders. When you hire an experienced Smithfield long term disability insurance attorney from Abell and Capitan Law, we can help you work through the process to maximize your chances of being approved for benefits.
Because the insurance company has a vested interest in the outcome of your case, they don't always make decisions based on facts and evidence. The complexity of disability law means your claim will be more successful if you have the assistance of an attorney who focuses exclusively on disability insurance cases.
Our legal team has the experience to collect the evidence needed, comply with all deadlines, negotiate with your insurance company, and litigate your case, if necessary. In the past, we have filed lawsuits against powerful insurance companies and won.
We take the time and effort to get to know our clients and their unique stories to customize a strategy that meets their needs. Our legal team treats our clients with respect and compassion.
Common Reasons Insurance Companies Deny Long Term Disability Claims
Filing a claim for long term disability can be a challenging experience. Unfortunately, long term disability companies look for reasons to deny your claim. Some of the most common reasons include:
Disability definition: How your policy defines a long term disability differs between insurance companies. Many policies have exclusions that prohibit you from collecting benefits for specific types of accidents or injuries.
Errors in procedure: There are strict deadlines that must be adhered to in a long term disability claim. Even missing one step or submitting medical records a day late could jeopardize your right to collect benefits.
Missing medical records: You must submit documentation from your healthcare provider that proves you have the injury or illness you claim to have. Documentation must include all records that pertain to your injury or illness. That includes hospital records, physical therapy bills, letters from the doctor, and prescription medicine receipts.
Inconsistent information: All of the information that you submit to the insurance company will be reviewed and evaluated. If there are any discrepancies, that could be reason enough to deny your claim.
Insurance bad faith: To reduce their overhead, some adjusters will intentionally deny a claim even though it meets the requirements under the policy. Others will not thoroughly investigate the claim or deny the request before reviewing the evidence. Each of these is an act of bad faith.
Rare medical conditions: Most insurance adjusters are familiar with long term disability claims. However, they may deny a claim if they do not understand the details of your medical condition.
Speak With an Experienced Disability Insurance Lawyer Today
If your claim is denied, you are allowed to file an appeal. However, as with the rest of the claims process, there are strict deadlines for the appeal process. If you are filing a long term disability claim, you need an experienced Smithfield long term disability insurance attorney from Abell and Capitan Law at your side.
Our legal team understands the importance of receiving benefits as soon as possible. When you're hurt and out of work, medical expenses can grow quickly. You can depend on our team to fight to protect your right to the insurance benefits that you deserve.
If your illness is keeping you from your job in Smithfield, call our office today at (267) 419-7888 for your free consultation and case evaluation. Find out how our long term disability insurance attorneys can help you fight to protect your right to the benefits you deserve.